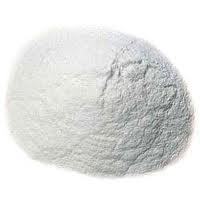 Calcium Disodium EDTA
Product Code : E008
Price And Quantity
Unit of Measure

:

,
Product Description
With the support of our adroit professionals, we are actively involved in offering highly effective Calcium Disodium EDTA. Our offered chemical is sequestering agent and is widely used in agriculture, pharmaceutical, detergent, cosmetic, photography and other allied industries for plant growth, water treatment, food & beverages, cosmetics, laboratory reagent and many more. This chemical is processed in the most hygienic environment under the supervision of our professionals. The offered Calcium Disodium EDTA is available in different packaging options as per client's requirements at reasonable prices.
Calcium Disodium EDTA is used in Mayonaisse. It prevents bad taste and odor of decomposing oils or fats in sauces, salad dressings, sandwich spreads and mayonnaise. Cucumbers, pickled cabbage and many other foods contain Calcium disodium EDTA.

Features:
Purity
Accurate composition
Precise pH value
Highly effective
Specifications:

Calcium Disodium EDTA is a derivative of Ethylenediamine Tetraacetic Acid.

Ethylenediamine Tetraacetic Acid is a Sequestering / Chelating Agent. EDTA is a synthetic amino acid. It is widely known as EDTA. It is a white powder. EDTA Acid is insoluble in water. It is also named as Ethylenediamine Tetraacetate. It is widely used to dissolve Metallic Impurities. There are various Salts / Derivatives of EDTA.

EDTA is widely recognized as effective Sequestering Agent. EDTA grabs metallic cation such as Lead or Calcium from the process and forms a stable compound that is then excreted from the system. The stability of this bond is vital to get the success in removing the inorganic impurities out of the system. If the bond is weak, other chemicals can break this bond to form their own compounds.

Synthesis / Manufacturing Process of EDTA
The compound was first prepared in 1935 by Ferdinand Munz, who prepared the compound from Ethylenediamine (EDA) and Monochloroacetic acid.Today, EDTA is synthesized on an industrial scale from Ethylenediamine (EDA), Formaldehyde, and Sodium cyanide (NaCN). The sodium salt of EDTA forms first in both processes and then can be converted to the acid form.

Specifications of Calcium Disodium EDTA
Product Name : Calcium Disodium EDTA.

Product Code : E008.

Product Category : Ethylene Diamine Tetra Acetic Acid Derivatives.

CAS No. : 62-33-9 (Anhydrous); 6381-92-6 (Dihydrate).

HSN No. : 29173990.

Synonyms : Etylenediaminetetraacetic Acid Calcium Disodium N,N'-1,2-ethanediylbis(N-(carboxymethyl)glycine) edetic acid Calcium Disodium Salt, Calcium Disodium Edetate.

Molecular Formula : C10H12O8N2Ca.Na2.2H2O.

Molecular Weight : 372.2.

Appearance : White Crystalline Powder.

Solubility : Soluble In Water, Clear Solution.

Assay : 99.0% Min.

pH : 6.0 - 8.5.

Heavy Metals : 0.002% Max.

Packing : 25 Kg. HDPE Bags / Drums.
Uses / Application of Calcium Disodium EDTA
Calcium Disodium EDTA is a Sequestering Agent, which is used in various Industries such as Pharmaceutical, Photography, Textile, Boiler Turbine scale removal, Agriculture as a Micronutrient for Plant Growth, Water Treatment, Laboratory Reagent, Food & Beverages, Cosmetics, Soaps & Detergents, etc. It is used for removing unwanted inorganic impurities present in the system, which helps in getting superior performance & cost saving.
Applications: IN MAYYONISE AS PRESERVATIVE