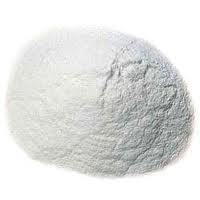 Product Description
Our firm is a renowned entity, engaged in offering high quality Calcium Trisodium DTPA. This chemical is processed using premium quality chemical compounds under the guidance of skilled team of professionals and is offered in powder form. The offered chemical is immensely recommended as an antidote to nuclear contamination and is used in pharmaceutical applications. Our offered F Calcium Trisodium DTPA is also tested on various predefined quality parameters.
Features:
Precise pH value

Highly effective

Purity
Information :
Calcium Trisodium Salt of Diethylene Triamine Penta Acetic Acid is a Sequestering / Chelating Agent. DTPA is a synthetic amino acid. It is widely known as DTPA. It is a white powder. DTPA Acid is insoluble in water. It is also named as Diethylene Triamine Pentaacetate. It is widely used to dissolve Metallic Impurities. There are various Salts / Derivatives of DTPA.
DTPA is widely recognized as effective Sequestering Agent. DTPA grabs metallic cation such as Lead or Calcium from the process and forms a stable compound that is then excreted from the system. The stability of this bond is vital to get the success in removing the inorganic impurities out of the system. If the bond is weak, other chemicals can break this bond to form their own compounds.
Synthesis / Manufacturing process of DTPA
The compound was earlier prepared by the reaction of Diethylene Triamine (DETA) and Monochloroacetic acid. Today, DTPA is synthesized on an industrial scale from Diethylene Triamine (DETA), Formaldehyde, and Sodium cyanide (NaCN). The sodium salt of DTPA forms first in both processes and then can be converted to the acid form.
Specifications of Calcium Trisodium DTPA
Product Name : Calcium Trisodium DTPA.
Product Code : D008.
Product Category : Diethylenetriamine Penta Acetic Acid Derivatives.
CAS No. : 12111-24-9.
HSN No. : 29173990.
Synonyms : DTPA Calcium; DTPA Ca; Trisodium Calcium DTPA.
Molecular Formula : C14H18Ca3Na3O10.
Molecular Weight : 497.4.
Appearance : White Powder.
Solubility : Soluble In Water.
Assay : 98.0% Min.
pH : 6.0 – 9.0.
Packing : 25 Kg. HDPE Bags / Drums.
Uses / Application of Calcium Trisodium DTPA
Calcium Trisodium DTPA is a Sequestering Agent. Calcium Trisodium DTPA is generally used in Pharmaceutical application as an antidote to nuclear contamination.