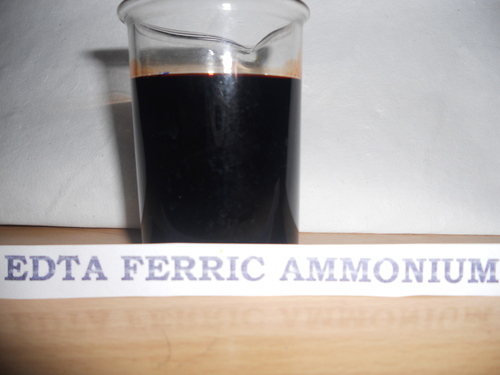 Ferric Ammonium EDTA Liquid.
Product Code : E006
Product Description
Information on Ferric Ammonium EDTA Solution.

Ferric Ammonium EDTA Solution is a derivative of Ethylenediamine Tetraacetic Acid.

Ethylenediamine Tetraacetic Acid is a Sequestering / Chelating Agent. EDTA is a synthetic amino acid. It is widely known as EDTA. It is a white powder. EDTA Acid is insoluble in water. It is also named as Ethylenediamine Tetraacetate. It is widely used to dissolve Metallic Impurities. There are various Salts / Derivatives of EDTA.

EDTA is widely recognized as effective Sequestering Agent. EDTA grabs metallic cation such as Lead or Calcium from the process and forms a stable compound that is then excreted from the system. The stability of this bond is vital to get the success in removing the inorganic impurities out of the system. If the bond is weak, other chemicals can break this bond to form their own compounds.

New Alliance Dye Chem Pvt. Ltd. is a leading worldwide manufacturer of Sequestering/Chelating Agents.

Synthesis / Manufacturing Process of EDTA

The compound was first prepared in 1935 by Ferdinand Munz, who prepared the compound from Ethylenediamine (EDA) and Monochloroacetic acid. Today, EDTA is synthesized on an industrial scale from Ethylenediamine (EDA), Formaldehyde, and Sodium cyanide (NaCN). The sodium salt of EDTA forms first in both processes and then can be converted to the acid form.

Specifications of Ferric Ammonium EDTA Solution:

Product Name: Ferric Ammonium EDTA Solution.
Product Code: E006.
Product Category: Ethylene Diamine Tetra Acetic Acid Derivatives.
CAS No.: 21265-50-9.
HSN No.: 29173990.
Synonyms: EDTA Ammonium Iron.
Molecular Formula: C10H16FeN3O8
Molecular Weight: 362.0.
Appearance: Reddish Brown Liquid, free from foreign matter.
Assay: 50.0% Min. (As Ferric Ammonium EDTA).
pH: 7.5 " 8.5.
Total EDTA content: 62.8% Min.
Specific Gravity: 1.27 " 1.29.
Total Fe++ content: 1.0 g/l Max.
Packing: 250 Kg. HDPE Drums.
Note: The above specifications are for reference purpose. Product can be offered as per customers required specifications.

Uses / Application of Ferric Ammonium EDTA Solution

Ferric Ammonium EDTA Solution is a Sequestering Agent, which is normally used as a Photographic Chemical for a bleaching agent in the process of colour washing.