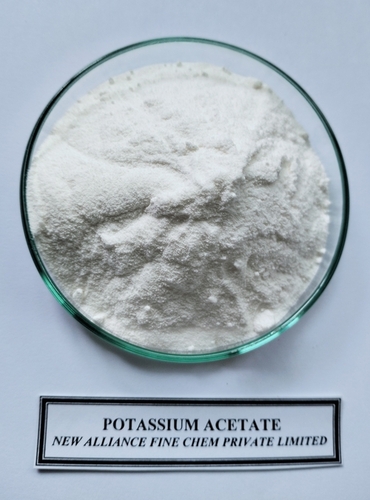 Product Description
Driven with a zeal to excel in this industry, we have been exercising our expertise by offering premium quality Potassium Acetate. This chemical is a derivative of acetic acid and is freely soluble in water. Widely demanded for its remarkable features like purity and non-toxic, this chemical is formulated by our skilled chemical engineers using latest formulated techniques. Processed using premium quality chemical compounds, this acid is made under the guidance of skilled chemical engineers. Our offered Potassium Acetate finds its application in:
Agriculture

Food & Beverages

Personal Care

Oil Field Application

Textile
Other Details:

We are offering you a wide range of Potassium Acetate. we are able to meet the market demands and also are able to deliver the international standard products to our valued clients.
Melting Point of Potassium Acetate is 292oC. Potassium Acetate is Hygroscopic material. It should be stored in tightly closed containers in a Room Temperature.

Synthesis / Manufacturing Process of Acetates
The major raw material to all the acetates is Glacial Acetic Acid. Acetic Acid was initially prepared by aerobic fermentation of Ethanol. Ethanol was catalytically oxidised to Acetaldehyde, which in turn oxidised to Acetic Acid. Today Acetic Acid is prepared by carbonylating methanol to Acetic Acid in presence of a catalyst.

All the inorganic Acetates are manufactured by reacting Glacial Acetic Acid with their Hydroxides. This is Acid-Base neutralization reaction.

Specifications of Potassium Acetate

Product Name: Potassium Acetate.
Product Code: A003.
Product Category: Acetate.
CAS No.: 127-08-2.
HSN No.: 29173990.
Synonyms: Potassium Acetate, Acetic Acid Potassium Salt.
Molecular Formula: CH3CO2K.
Molecular Weight: 98.14.
Appearance: White Crystalline Powder.
Solubility: Soluble In Alcohol, Ammonia.
Assay: 99.0% Min.
pH: 7.0 - 9.0.
Packing: 25 Kg. HDPE Bags / Drums.
Uses / Application of Potassium Acetate
Potassium Acetate is used as part of replacement protocols the treatment of Diabetic Ketoacidosis. It is also used as a Food additive as a preservative & acidity regulator. Potassium Acetate is also used as a Dehydrating Agent, a Textile conditioner, a Flame Retardant & as a Drilling Fluid Additive.