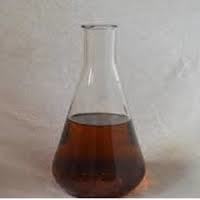 Soya Protein Hydrolysate 20% Liquid
Product Code : 18
Product Description
Soya Protein Hydrolysate 20% Liquid:-
Soya Protein Hydrolysate is isolated from Soyabean. Soya Protein Hydrolysate contains broad range of nutrients like Amino Acid, Short chain peptides
besides high Carbohydrates & Vitamins. It is a mixture of number of Amino Acids which are essential for normal growth of Plants & Animals. It is widely
used in Food & Beverages & Agriculture. Soya Protein Hydrolysate is hygroscopic in nature. It should be packed in tightly closed containers.
New Alliance Dye Chem Pvt. Ltd. is a leading worldwide manufacturer of Protein Hydrolysate products.
Synthesis / Manufacturing Process of Soya Protein Hydrolysate:-
Soya Protein Hydrolysate is manufactured by enzymatic digestion of defatted soybean meal. The concentration of protein is achieved by removing
most of the soluble non-protein compounds. These compounds are mainly soluble carbohydrates and some nitrogenous substances and minerals. Due
to this process much the undesirable beany flavour and oligocharides (raffinose and stachyose) are removed. The process of manufacturing is carried
out in controlled conditions to prevent bacterial contamination during the process.
Specifications of Soya Protein Hydrolysate 20% Liquid:-
Product Name : Soya Protein Hydrolysate 20% Liquid.
Product Code : K012.
Product Category : Amino Acid / Protein Hydrolysate.
Appearance : Creamish Yellow to Brown coloured clear liquid.
Taste & Odour : Bland in Taste having Characteristic Odour of Soya.
Total Nitrogen : 2.5% Min.
Total Protein Content : 16.0% Min.
pH (2% Solution) : 4.5 To 6.5.
Packing : 50 Kg. HDPE Drums.
Uses / Application of Soya Protein Hydrolysate:-
Protein Hydrolysate is used in Pharmaceuticals, Food & Beverages as a Seasoning & Flavour enhancer, Agriculture as a source of Nitrogen, Cosmetic,
Bacteriological Media Ingredients.